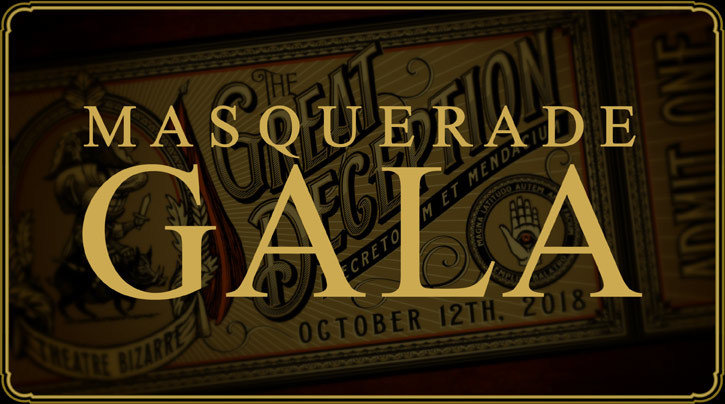 SOLD OUT - Masquerade Gala "Zombo's Repose" [2 Tickets + Hotel Stay] - October 11, 2019
SKU 666012019
Product Details
Experience the deepest delights that Theatre Bizarre has to offer with this exclusive bundle, conjoining two tickets of admission with a discounted stay at MotorCity Casino Hotel, stationed minutes away from the Masonic Temple.

This bundle is extremely limited. Do not miss your opportunity to reap the benefits of luxury.


---

Immerse yourself in an elegant masquerade of intoxicating allure with an exclusive and intimate exhibition of Theatre Bizarre's decadence and delights! Revel in our guided tour through a curated showcase of our most phantasmagoric entertainment, and indulge in a lavish cocktail reception, open bar, and strolling dinner as we lead the procession through the many transformed floors of Theatre Bizarre - an immersive art installation on a massive scale.

The Theatre Bizarre Masquerade Gala -
Don't miss a thing, as we feature an exclusive curation of performers that must been seen to be believed.
Drink yourself to death in an all-night open bar.
Feast upon a succulent selection of cuisine and confection with our strolling dinner throughout the night.
Blur the lines between patron and performer, becoming part of the show.
Delve into 8 floors of lascivious debauchery while discovering our Ghost Train ride, Odditorium, Asylum, Ice Cream Parlour and more.
Experience the symphonious splendor of the full 12-piece Theatre Bizarre orchestra in our Grand Ballroom, along with highlights from Zombo's favorite bands and swing DJs.
Lose yourself in complete idyllic anonymity and explore your deepest, darkest desires.
Take in the enigmatic enormity of Theatre Bizarre comfortably, at 1/10 the crowd size of Saturday's event.
Complimentary valet parking included for all initiated members of Zombo's elite.
---
Motor City Casino Hotel -
Walking distance (1/2 mile) from the Masonic Temple
Complimentary Wi-Fi access throughout the hotel property
Decadent bedding with 300-thread count linens
Marble bathroom with separate soaking tub and shower
Complimentary self and valet parking
Complimentary Starbucks coffee and bottled waters in each room
10% off all products in Lacquer Gift Shop
10% off all in room dining ordered electronically through television in room
Complimentary use of 24 hour business center
Complimentary use of 24 hour fitness center
10% off spa services in D.Tour Spa
Check-in time is 4:00pm, check-out time is 11:00am
Each ticket admits single entry for the Theatre Bizarre Masquerade Gala - October 11, 2019 | 6:30 P.M. - 2:00 A.M.
(You will receive two tickets as part of this purchase)


You will need a valid photo ID and credit or debit card to check into the hotel when you arrive. This credit or debit card will be used to pay for any incidental charges or damages to the room. (This does not need to be the same card used to purchase your package).

For more information, visit our Theatre Bizarre Hotel Bundle FAQ page.

Attendees of the Theatre Bizarre Masquerade Gala must arrive in formal costume attire. Remember, you and your ensemble are the most important pieces in making this night mystifying. Arrive dressed for a meeting of a hushed society of secret elites, or a deeply-rumored and sought-after Explorer's Club. Victorian corsets and ball gowns, top hats and tails, or historical and elegant - all as example. Don't show up wearing simply your Sunday Best - if you're wearing a suit, make sure it's a jaw-dropping suit.

Theatre Bizarre is located at:
500 Temple Street, Detroit, Michigan, U.S.A.
Per Zombo's demands:

Availability to this event is limited. Get your tickets before they're gone, at risk of eternal regret.

Theatre Bizarre is a costume mandatory event. Be dressed for the kind of Masquerade Gala you desire to attend, not in a costume from Halloween City.

All attendees of Theatre Bizarre must be 21 years of age or older. Please bring a valid photo ID to prove you're not several children on each other's shoulders underneath your costume.

Neither Theatre Bizarre or the Temple may be held responsible for injury, loss of life, or loss of property. All sacrifices of mortality or personal belonging will go directly to Zombo.

No refunds will be issued under any circumstances. Any requests for refunds will be mercilessly mocked.

All attendees are bound by an oath of silence and eternal loyalty.
---
Doors: 6:30 P.M, October 11, 2019
Masquerade costumes MANDATORY. All Ticket Sales FINAL. Hail Zombo.
---
All purchases that do not explicitly Opt-Out of our mailing list will be added for further updates from Theatre Bizarre.

Save this product for later