Ticket to The Masquerade Gala October 13 2017
66612017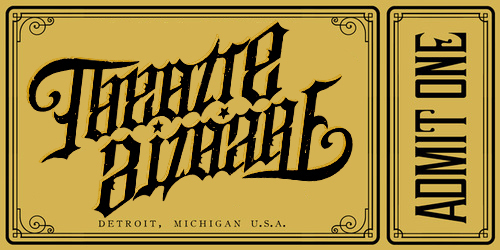 TICKETS
OCTOBER 13 2017
Theatre Bizarre Maquerade Gala - October 13, 2017 - 6:30pm-2am - 500 Temple Street, Detroit, Michigan, U.S.A. Each single ticket is good for one individual admission to the indicated event.
The Preview Gala includes a strolling dinner, open bar and complimentary valet parking.
All service and processing charges are included in price shown.


From the "Rules of Attendance" to be found on the back of your ticket:

All attendees of Theatre Bizarre must be 21 years of age or older. All attendees are responsible for their own safety and well being. Neither The Temple, nor Theatre Bizarre nor any of its associates may be held responsible for any injury, loss of life or loss of property related to attendance of Theatre Bizarre. No refunds will be issued under any circumstances. All attendees are bound by an oath of silence and eternal loyalty.
Masquerade costumes are MANDATORY.
Please be aware of our Dress Code Policy and Photo/Video Policy:
http://theatrebizarre.com/dress-code-policy/
http://theatrebizarre.com/photovideo-policy/
If you have any questions please refer to our F.A.Q.:
http://theatrebizarre.com/faq/
All Ticket Sales are FINAL. No Refunds.
Note: Shipment of tickets will be performed periodically. Please allow 2 - 4 weeks for processing and delivery. The final shipment of tickets will be October 1 to ensure timely delivery. All sales after midnight September 30th will be available for will call pick up only.
Doors open for this event at 6:30pm October 13, 2017